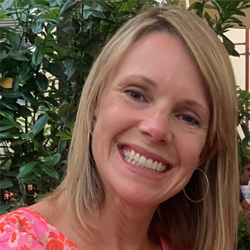 Gretchen Lynn George, Ph.D., RD
Associate Professor
Phone: (415) 338-3421
Email: glgeorge@sfsu.edu
Location: Burk Hall 302 (https://calendly.com/glgeorge/spring-2023-advising-and-office-hours)
Office Hours:
Mon:
4:00 pm - 5:00 pm
In-person
Wed:
12:15 pm - 1:15 pm
In-person
Thu:
10:00 am - 12:00 pm
On zoom
BIOGRAPHY
Gretchen L. George is passionate about prevention and empowerment. In her position as Associate Professor of Nutrition and Dietetics and Program Lead in the Family, Interiors, Nutrition & Apparel Department at San Francisco State University, she facilitates learning through nutrition education, metabolism, community nutrition, and research courses. In the classroom she includes students in her food literacy and basic needs research on the community and college student. More recently she has begun exploring weight stigma in health-related majors from a social justice perspective, with the overall goal of eliminating weight bias in health professionals through incorporation of intuitive eating models in the classroom. Beyond the focus on eliminating weight bias, an imperative goal of hers is to strengthen the understanding of what health means, connecting individual, trauma, access, environment, and biological mechanisms to dispel stigmatizing false information. Some of her teaching is expanding to a study abroad program in the Mediterranean region. In her free time, Gretchen lectures for Stanford Healthy Living, part of the BeWell Program, enjoys hiking, and love traveling with her family.
Selected Publications
•    Herzig, L., & Levit, J., Watson, Kaitlynn, W., & George, G. (2021) Weight and body image bias in Nutrition and Dietetics University Student. California Journal of Health Promotion, 19:1 (64-75).
•    Fish, A., & George, G. (2020). Added sugar consumption and the relationship with mood disorders in women. Journal of Family & Consumer Sciences. *
•    George, G., Kaiser, L., & Schneider, C. (2016) Lessons learned: how summer camps reduce risk factors of childhood obesity. California Agriculture, Apr; 71(2):75-80.
•    Vouchilas, G., & George, G. (2016). Dietetics students' perceptions of capstone portfolios; pre- and post-graduation. Journal of Family & Consumer Sciences, 108(4), 51- 56.
•    George, G., Schneider, C., & Kaiser, L. (2016). Healthy lifestyle fitness camp: a summer approach to prevent obesity in low-income youth. Journal of nutrition education and behavior, 48(3), 208-212.
Courses Taught at SF State
•    NUTR 253: Diet, Health & Disease
•    NUTR 253Z: Study Abroad Diet, Health & Disease
•    NUTR 450: Advanced Nutrition & Human Metabolism I
•    NUTR 550: Advanced Nutrition & Human Metabolism II
•    NUTR 551: Nutrition Education & Communication
•    NUTR 651: Community Nutrition & Assessment
•    NUTR 755: Advanced Human Metabolism
Award Chair, Nutrition Education & Behavior Research Interest Section, American Society of Nutrition